Introducing The 2020 Toyota Supra
An Incredible Experience In Every Way: 2020 Toyota Supra
The Toyota Supra is a name that many will fondly remember. With its sporty design, its versatile and powerful performance, and its unique, modern aesthetic this vehicle owned the road for years with confidence. Yet, in 2002, it was sadly discontinued. Now, to the excitement of many (including folks on our team here at Sloane Toyota of Philadelphia), this incredible model is back for more!
Not only does the 2020 Toyota Supra bring back the exciting sportiness and confident power that you remember. Furthermore, it brings a lot of new benefits to the table: cutting-edge technology, a new, stunning exterior design, plenty of interior features to access, and a bold, modern interior design. All of these elements can help redefine your driving experience in every way.

2020 Toyota Supra Features
Trim Levels
The 2020 Toyota Supra offers you a few different trim levels that you can choose from. Not only does this give you a few different options to choose from, but it also shows you a few different shades of this vehicle, all of which offer unique benefits, exciting features, and domineering artisanship.
The three trim levels you can choose from are:

* Toyota Supra 3.0

* Toyota Supra 3.0 Premium

* Toyota Supra 3.0 Premium Launch Edition
Performance Features
The 2020 Toyota Supra doesn't just look the part when it comes to sportiness -- it delivers. In fact, the 2020 Toyota Supra offers you an incredible array of modern performance capabilities, which help set it apart on the road from other sports cars.
With this vehicle you can enjoy:
335 horsepower, 365 pound-feet of torque
31 highway mpg, 24 city mpg
goes from 0 to 60 in 3.4 seconds
Furthermore, thanks to the 2020 Toyota Supra's deft agility and easy-to-control driving style, you can easily handle turns and corners with precision and confidence.
Technology & Safety Features
In addition to quality performance, the 2020 Toyota Supra provides drivers with a vast array of cutting-edge features. Both in terms of entertainment and safety, these features help elevate the quality of your driving experience on the road.
Some of the features you can expect with the 2020 Toyota Supra include:
automatic temperature control
premium audio system
a navigation system
Bluetooth Connectivity
This is just a small selection of the features you can expect, too!
Safety is paramount when you are behind the wheel. Your security always comes first, whether you are traversing back roads near your home, or you are chasing the horizon on the highway. That is why the 2020 Toyota Supra is loaded with cutting-edge safety features. These technologies help ensure you get to your destination safely and reliably.
Some of those features include:
Emergency Communication System
Distance Pacing Cruise Control
Speed Limit Sign Recognition
much more!
All of these features can help keep you secure on the open road and ensure you get to your destination safely.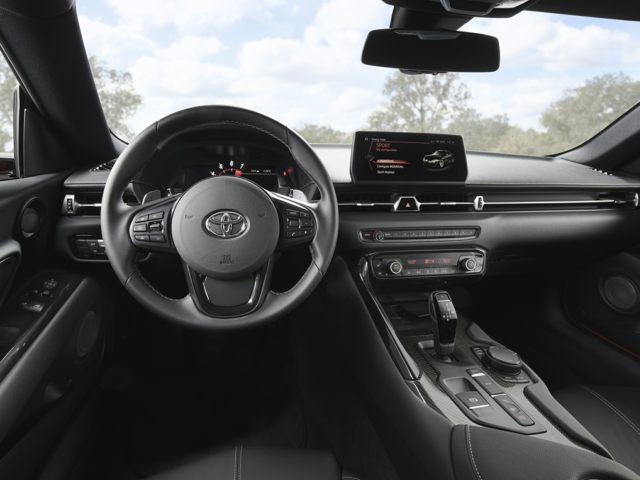 Ready To Learn More?
If you would like to learn more about our selection of vehicles, including the 2020 Toyota Supra, we invite you to visit us at Sloane Toyota of Philadelphia, located in Philadelphia, PA. Our team would be proud to help you schedule a test drive with your favorite model on our lot, whether that's the 2020 Toyota Supra or something else.
We are proud to serve drivers throughout Northeast Philly, Trevose, Center City, and Langhorne.